History, Mission and Overview
The Somerville Community Corporation (SCC) is a membership organization that provides leadership for sustaining the City of Somerville as a vibrant, diverse and tolerant community. We offer services and lead community organizing that supports low- and moderate-income Somerville residents in their efforts to achieve economic sustainability and increase civic participation.
SCC was founded in 1969 as a multi-service center assisting low-income Somerville residents. We opened Somerville's first soup kitchen, Project Soup, and operated it for 25 years before turning over operations to the Somerville Homeless Coalition. We also provided advocacy services to our constituencies to address and prevent housing emergencies. As a membership-based organization strongly rooted in grassroots community organizing, our members have led a number of successful campaigns over the years to influence affordable housing policy and quality of life improvements in Somerville's neighborhoods.
Starting in 2005 with our East Somerville Initiative, SCC began building a strong practice of participatory community planning, concentrated in that neighborhood and later the Community Corridor Planning project along the pathway of the anticipated MBTA Green Line Extension. In 2014, we started the First Source Jobs program, which has become a model job training initiative in the region. We began the 100 Homes program – a unique partnership with the City of Somerville to purchase home off the speculative market and make them permanently affordable – in 2016. More recently, we have supported residents and small businesses in Union Square who are working to ensure that those who have made it such a desirable place benefit from its continued transformation. SCC organized alongside Union United and the neighborhood to fight for the Community Benefits Agreement, which passed with overwhelming support.
Over the years, we grew and evolved as Somerville did — focusing on affordable housing, good jobs, equitable opportunity, and social justice — to become the SCC of today, impacting thousands of people each year through our outstanding programs and work in collective pursuit of sustainable social and economic equity. Over the past five decades, we have:
Built or preserved 450+ affordable homes
Placed over 500 job seekers into good jobs, with an average wage of $18.08/hr
Helped hundreds of residents achieve financial stability and build their assets through the financial literacy and First Time Home Buyer program
Acquired 117 permanently affordable homes through the 100 Homes and 49 More Homes Programs
Increased Somerville's housing linkage fee to $10.00/square foot to help create more affordable housing
Instituted a jobs linkage fee at $2.45/square foot to support Somerville's workforce
Launched the Culinary Peer Training program through
First Source Jobs
Inspired several successful Somerville city council runs
Moved ahead with the partnership to redevelop Clarendon Hill public housing, one of Somerville's largest affordable housing resources
Mobilized hundreds of residents to achieve key organizing victories including passing Somerville's Community Preservation Act; increasing Inclusionary Zoning to 20%; and supporting a groundbreaking $4 million Community Benefits Agreement in Union Square
Building on our fifty years of history, today we envision a Somerville where:
families and individuals from many different backgrounds and cultures enjoy equitable access to secure housing, economic stability, and opportunities for leadership and active engagement
community change is embraced in a way that people of limited means, education or familiarity with the local economy share in the benefits of growth and development, no longer threatened by escalating living costs or the inability to keep or find a nearby job
the planned expansion of the MBTA Green Line offers great opportunity and potential for jobs for Somerville residents as new development comes to our community
low and moderate-income residents and those who have recently come from other countries and cultures, are included in the process of planning for and being involved in a more inclusive, equitable future for the City.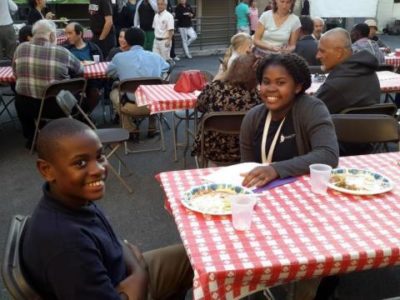 There are so many ways to get involved in your Somerville community
join us for fun anniversary events all year long,
take our classes,
attend our networking cafe or
become an employer advisor,
join a community organizing committee and
learn about housing,
take our leadership development course, or
become an SCC member!!
With your support, we'll continue to keep Somerville affordable, inclusive, and equitable – a place where all our neighbors can thrive.