Mission
The First Source Jobs Programs helps local job seekers gain the skills and training they need to establish a career pathway resulting in good jobs, career growth, and economic resiliency, while providing employers with qualified, local job candidates.
We work to advance economic opportunity for unemployed and underemployed adult workers, people working minimum wage jobs, immigrants, people of color, and front line workers in Somerville and Boston's metro north region.
We help job seekers identify and overcome barriers to employment, support job readiness skill development, build social capital and peer support, and become leaders in the community.
Connecting Residents and Employers
More than 30,000 jobs are projected to be coming to Somerville in the next decade. But only 15% of Somerville residents currently work in the City at a time when too many are being displaced by development. 
The Somerville First Source Jobs Program connects local residents looking for jobs with local employers – providing residents with increased economic stability and employers with qualified, highly-motivated job candidates.
Helping Residents Find Somerville Jobs
As a First Source participant, you and your career coach will work together one-on-one to establish a personal action plan to reach your goals, and develop strategies to advance your career and overall well-being. Program components include one-on-one career coaching, job readiness training, English for Employment training, computer literacy skill development, direct connections to employers, sector-specific job trainings, post-placement support, and wrap-around services and referrals.
Helping Employers Find the Best Employees
This commitment to First Source Job Program participants is beneficial for employers, because they can hire from a pool of qualified local workers who have the training and support to be successful on the job.
Local employees avoid energy-draining commutes. And with deeper ties to the community, they are invested in the success of local companies. Hiring hometown residents is good for business.
How the Program Works
SCC keeps a database of local job seekers and their skills, so they can be contacted first when new jobs are available in Somerville. Employers are able to hire directly from the First Source database before posting positions to the general public.
The resource also identifies workers who need more training. This way, they can become better qualified for future jobs that they may wish to pursue.
Current Programs Include:
Career Coaching
Job Readiness Workshops & Training
Networking Cafe
Industry-specific Job Training Programs in IT and healthcare
To sign-up as a First Source Jobs Program job seeker or employer, contact Blake Roberts Crall, or call her at 617.410.9902.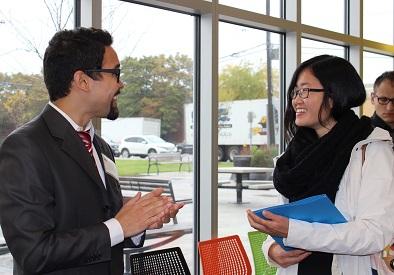 23% of Massachusetts residents work in jobs that pay less than $15/hr
Even when working full time or more, families do not earn enough money to afford our local cost of living. At the same time, more than 30,000 new jobs are projected to be coming to Somerville in the next decade. The First Source Jobs program works to make sure local job seekers are prepared and have access to these job opportunities.
We envision a community in which every member has access to a good job, a career pathway, and a family-sustaining wage.