Desenvolvimento imobiliário
A SCC desenvolve unidades de aluguel e propriedade acessíveis e espaço comercial em Somerville para manter e fortalecer a diversidade socioeconômica da cidade. Desenvolvemos, possuímos e operamos mais de 330 unidades de residências para aluguel, mais de 20 condomínios acessíveis e vários espaços comerciais para empresas locais. Colaboramos com a City, a Commonwealth, com fins lucrativos e outras entidades sem fins lucrativos, credores e financiadores para iniciar novos projetos, enquanto aceleramos o progresso e concluem outros.
Oportunidade Econômica: Primeiros Empregos fonte
O Programa De Empregos de Primeira Fonte ajuda os candidatos locais a obter as habilidades e treinamentos necessários para estabelecer um caminho de carreira que resulte em bons empregos, crescimento de carreira e resiliência econômica, ao mesmo tempo em que fornece aos empregadores candidatos qualificados e locais. Trabalhamos para promover oportunidades econômicas para residentes e trabalhadores em maior risco de deslocamento e marginalização em Somerville e na região norte metropolitana de Boston. Ajudamos os candidatos a emprego a identificar e superar barreiras ao emprego, apoiar o desenvolvimento de habilidades de prontidão para o emprego, conseguir e manter um emprego, construir capital social e apoio de pares e se tornar líderes na comunidade.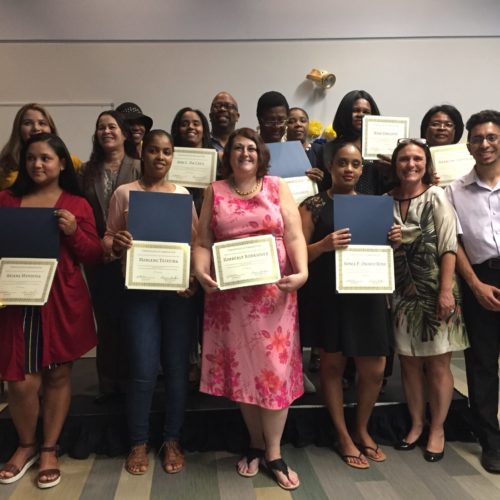 Oportunidade econômica, educação, construção de ativos
A alfabetização financeira e a programação de oportunidades econômicas da CCS trabalham para combater anos de políticas econômicas injustas, ajudando as pessoas a construir riqueza e encontrar estabilidade financeira. Nossas aulas de First Time Homebuyer ajudam as pessoas a entender melhor o processo muitas vezes intimidador de economizar e comprar uma casa, bem como como acessar programas que podem tornar isso mais acessível. Nossas aulas de Alfabetização Financeira ajudam as pessoas a aprender a economizar, diminuir dívidas, entender crédito e bancos, orçamento e alcançar seus objetivos financeiros. Este trabalho é fundamental para a realização da equidade sustentável na cidade de Somerville.
Organização e planejamento da comunidade
A SCC trabalha para capacitar os residentes de Somerville a se tornarem líderes ativos na comunidade, conhecer seus direitos e encontrar seu poder.
Apoiamos a organização da comunidade para moradias acessíveis, empregos locais e planejamento de base, e ajudamos a desenvolver as habilidades de liderança dos organizadores através do nosso Instituto anual de Desenvolvimento de Liderança.
I never considered myself financially or knowledgeable enough to pursue owning a home for myself, but through the course, and the team SCC assembled to talk to us, I have started the process of buying a home. The SCC team's honesty and openness in cultivating a class where participants felt comfortable asking any questions was welcomed and provided a more in-depth understanding of the home buying options in Massachusetts. I look forward to updating you on my progress, and am forever grateful.
We at East Cambridge Savings Bank and our Charitable Foundation support Somerville Community Corporation (SCC) in their efforts to sustain affordable housing and maintain social equality in the City of Somerville. SCC recognizes the importance of maintaining the City's cultural diversity and works diligently to preserve it for future generations. The dedication and enthusiasm of the staff at SCC is evident in the accomplishments of the organization. It is imperative that the SCC receive financial support from community leaders so that it may continue with its very important work."
"People in Somerville are not able to afford rent and are afraid of getting evicted, and it is important that we as a community keep it front of mind."