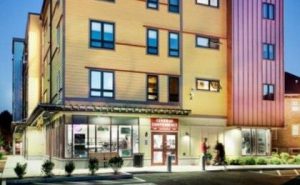 The Saint Polycarp Village site was formerly owned by the Roman Catholic Archdiocese of Boston and was used by the St. Polycarp Parish until 2002. SCC purchased the 3.5 acre property in March 2006 to revitalize this neglected and underutilized parcel of land at a key entrance point into Somerville. The site creates a vibrant smart growth community with 84 affordable rental units, commercial space, a church, a transitional home for single mothers and their children, and open space.
Included in the Saint Polycarp Village are 31 affordable apartments in an elevator building around a courtyard. Eight units are affordable to very low income families with project-based Section 8 subsidies, including two apartments reserve for formerly homeless households and three for people with disabilities.
By building apartments for low-income families, SCC has provided an avenue for low-income Somerville residents to remain in the rapidly developing community.
The village has a strong focus on open space, green construction and environmentally-friendly features, such as energy conservation and air purification systems, and a rain garden to collect storm water naturally onsite. Phase I has a LEED Silver award, Phase II is LEED Silver certifiable, Phase III is both Energy Star Version 3 and LEED Platinum, the highest green honor awarded to new developments.
The buildings were designed for smart growth, and are located in the transit-friendly, walkable neighborhood of Winter Hill. This reduces the need for cars, giving people more opportunity to reduce pollution and get exercise by walking.
SCC is grateful to the following organizations, for their help in financing Saint Polycarp Village Apartments: the City of Somerville, the Massachusetts Department of Housing and Community Development (DHCD), MassHousing, Community Economic Development Assistance Corporation (CEDAC), Massachusetts Housing Partnership (MHP), First Sterling Financial, Bank of New York Mellon Bank of America, Local Initiatives Support Corporation (LISC), Enterprise Foundation, U.S. Department of Housing and Urban Development (HUD)