Somerville's Union Square Neighborhood Council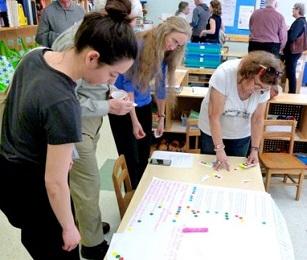 What it is, why we need it, and how you can get involved
Since the fall of 2016, a working group of about 40 residents comprising members of Union United, Union Square Neighbors, the Chamber of Commerce and other individuals has been meeting to lay the groundwork for a Union Square Neighborhood Council. We envision the council as an independent, representative, democratic body that can be the voice of Union Square as it is redeveloped, bringing people together and negotiating and enforcing a Community Benefits Agreement (CBA) with master developer US2.
The working group has met about twice a month to discuss the purpose, function, structure and membership of the future Neighborhood Council. Earlier this summer, we had two public meetings in which over 200 people learned about the formation of the council and voted on the draft bylaws. Sixty-five (65) percent of the people who attended the meetings supported the proposed framework for the body.
The formation of the Neighborhood Council is an opportunity for people who are affected by redevelopment to come together with their neighbors and act in the interest of the community. In June, US2 signed an agreement with Mayor Joseph Curtatone in which they promised to negotiate a CBA in good faith with the Neighborhood Council once it was formed. Thanks in part to the hard work of Union United members, there is now a requirement in place for a CBA that can ensure affordability, good jobs and community space are part of the redevelopment.
The strength of the Neighborhood Council depends, in part, on whether it has strong leadership representing the diversity of the neighborhood. If you live or work in Union Square, you are eligible to run for one of the seats on the Union Square Neighborhood Council board. Elections will be held in November (shortly after the municipal elections).
We hope that SCC members and others committed to development without displacement will run for the Neighborhood Council board.
If you are interested in learning more, contact Karen or attend one of the Neighborhood Council working group meetings, which are open to the public. Upcoming meetings are scheduled for Wednesday, September 20, 2017 from 7:00 to 9:00 p.m. and Saturday, September 30 from 9:00 a.m. to noon at the Public Safety Building, 220 Washington Street, Somerville.
You can also check out the Neighborhood Council website for more info.