Potential Health Care Training and Jobs with First Source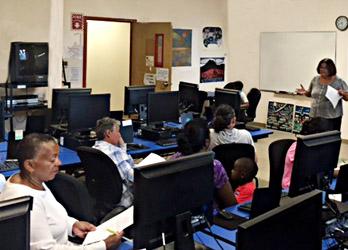 First Source staff – in partnership with The City of Somerville and the Somerville Center for Adult Learning Experiences (SCALE) – helped recruit candidates for a Partners in Career and Workforce Development Program (PCWD) information session earlier this month. SCALE hosted the event at its Somerville offices, and Roxbury-based Project Hope led the session. Two-thirds of the people attending were First Source clients, two of whom passed assessments and were interviewed. First Source is actively recruiting still more candidates for the next PCWD cycle, which begins in September.
The PCWD program provides eight-weeks of intensive office administrative training, designed for individuals interested in entry-level employment within one of the Partners HealthCare member institutions. The eight-week program includes:
An introduction to the health care environment
Medical terminology training
Resume preparation
Training on interviewing skills and mock interview days
Customer service skill development
Office computer skills training
An internship within a Partners HealthCare member institution
Post-graduation job placement assistance
Project Hope will hold another information session, on Friday, August 5, 2016 at 9:30 a.m. at their office located on 550 Dudley Street, Roxbury, Mass. Late arrivals will not be admitted. Applications close on August 7. Call 617.442.1880 to register.