Housing Professionals Talk Inclusionary Zoning in Somerville. SCC & MA Housing Partnership Co-Host Productive Roundtable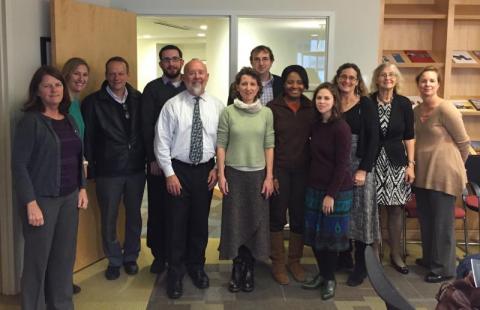 On Friday, November 14th, a group of 17 people who have been dedicated to the field of Inclusionary Zoning (IZ) met for a 3 hour lively roundtable discussion to study, discuss and troubleshoot current ideas and recommendations for changes to Somerville's IZ Policy as the City of Somerville undergoes an overhaul in its zoning. This event was hosted by Massachusetts Housing Partnership and SCC.
Affordable housing advocates and city planners are exploring ways to expand the reach of IZ as part of the City's zoning overhaul this year. City of Somerville's Director of Planning, George Proakis, shared their current ideas on inclusionary zoning, followed by recommendations from members of SCC's Affordable Housing Organizing Committee (AHOC). A group made up of lawyers, planners, and policy leaders from Massachusetts and other parts of the country brought their years of experience working with IZ to the discussion. During these three hours, we discussed target income groups, raising the percentage of IZ, triggering zoning at a lower threshold, legal implications of using by right zoning versus special permit, capturing the value of up-zoning to benefit the public, and other approaches to meeting our affordable housing goals.
We were very grateful to have such an engaged and informed group of people digging into this topic for Somerville. Stay tuned to see AHOC's IZ recommendations as the City moves forward with its proposed zoning reform.
Participants of Friday's roundtable discussion:
Susan Connelly, Director of Community Housing Initiatives, MHP
Meridith Levy, Deputy Director, Somerville Community Corporation
Patrick Maier, Executive Director, Innovative Housing Institute
Kelly Hunt, Associate, Innovative Housing Institute
Jaimie Ross, President, Florida Housing Coalition, Inc
George Proakis, Director of Planning, City of Somerville
Kelly Donato, Director of Special Projects and Housing Counsel, City of Somerville
Dan Bartman, Senior Planner, City of Somerville
Scott Hayman, Director of Real Estate Development, Somerville Community Corp.
Karen Narefsky, Organizer, Somerville Community Corporation
Ellen Shachter, Attorney, Greater Boston Legal Services and Member of AHOC
Martine Dreux, Member of AHOC (Affordable Housing Organizing Committee)
Greg Hill, Member of AHOC (Affordable Housing Organizing Committee)
Laura Shufelt, Community Assistance Manger, MHP
Judi Barrett, Director of Municipal Services, RKG Associates
Ezra Haber Glenn, Dept. of Urban Studies and Planning, MIT
Bob Ritchie, Massachusetts Attorney