Cynthia Taft: Thankful for Her New Community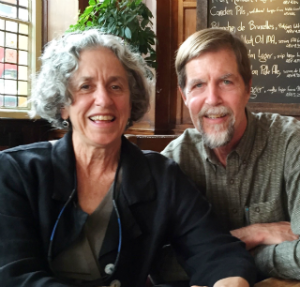 Shortly after moving to Somerville Cynthia Taft (Cindy) and her husband, Fred Mueller, met their next door neighbor Helen Corrigan, who has a long and rich association with SCC. "She began to tell us a little about SCC," explains Cindy. "That was our first encounter with it."
The Taft-Muellers also have a daughter who is getting a graduate degree in urban planning. Coinciding with their move to Somerville, their daughter was working for a community development organization in Cleveland. She was interested in affordable housing. Later she was responsible for developing an affordable housing plan for one of the community development organizations in the city.
Because the Taft-Muellers knew about SCC, their daughter had the opportunity for a "very interesting conversation" with SCC CEO Danny LeBlanc to discuss ideas, including the 100 Homes project. "That got us farther along in understanding the significance of the work SCC does," explains Cindy.
Signing on to Their Community
The Taft-Muellers had been longtime Cambridge residents, living there for nearly 30 years. "When we moved to Somerville we felt that we needed to "sign on" for being committed community members," states Cindy. Additionally, Cindy had been looking for organizations doing reliably good work on a local level. "I don't have that much difficulty finding national organizations that I believe in and I would support, but I really felt that we needed to find local ones.
"Also … we lived in Cambridge when there was rent control," shares Cindy. "And we were very aware that when rent control went out, Cambridge became largely unaffordable. We were conscious that the tremendous growth and interest in Somerville had a downside, which is that it would begin to look like Cambridge and have the same potentially damaging affect on communities.
We love where we live, and we don't want to feel that by joining the flood of people interested in living in Somerville that we made life worse for people who lived here a long time."
Doing Well While Doing Good
After attending one of the house parties that SCC members put on to share information about the organization and its Social Equity Campaign and the Community Investment Tax Credit (CITC), the Taft-Muellers were impressed, according to Cindy, by how thoughtful and clear-eyed LeBlanc and Deputy Director Meridith Levy are. And they were very attracted to the organization. "Then we learned about the Social Equity Campaign," states Cindy, "and thought, 'this certainly makes it easy.'" She believes that the campaign and the CITC can accomplish much more than you would expect. It is a very good choice, she believes.
On top of this, Cindy was pleased that Massachusetts created this framework to encourage investment in community development organizations. People can give a charitable donation to an organization that they feel good about and know is doing good work and do this in a more robust manner, thanks to the tax credit. "We are able to give more than we might otherwise," Cindy explains. "It makes me feel good on many levels – about Massachusetts because they did it. And it makes it easier to make a substantial donation – just in purely financial terms."
It is the combination, however, that most appeals to Cindy. She is pleased to give to an organization that she respects and trusts and enjoys the financial incentive. It is a program and an organization with which she is glad to be involved.
Cynthia Taft (Cindy) and her husband, Fred Mueller, are SCC Social Equity Campaign supporters.
What Is CITC?The centerpiece of the Social Equity Campaign, the Community Investment Tax Credit (CITC), provides a 50% donation tax credit for qualified contributions that individuals, organizations and businesses make each tax year. The purpose is to support community-led economic development initiatives by building a base of private contributors. The Social Equity Campaign has enabled SCC to connect more people with jobs in Somerville and more organizing hours to work with hundreds of people to push for essential policies, like Inclusionary Zoning, Linkage Fee, and community benefits agreements. Our gratitude to all of our donors is immense. Learn more.